And we can guess who was behind it.
http://www.washingtontimes.com/news/2015/oct/7/house-defeats-attempt-dismantle-benghazi-committee/
House defeats attempt to dismantle Benghazi committee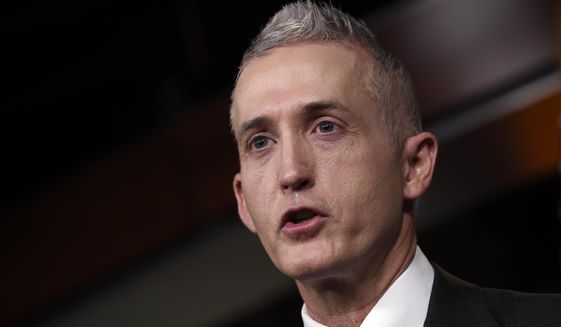 House Select Committee on Benghazi Chairman Rep. Trey Gowdy, R-S.C., speaks at a news conference on Capitol Hill in Washington, Tuesday, March 3, 2015, about former Secretary of State Hillary Rodham Clinton using her personal email account for official business. ...
more >
By David Sherfinski
- The Washington Times - Updated: 3:08 p.m. on Wednesday, October 7, 2015
U.S. representatives beat back an attempt Wednesday to disband the House Select Committee on Benghazi, as Republicans quashed the latest push from Democrats to try to discredit the panel ahead of a hearing later this month featuring former Secretary of State Hillary Rodham Clinton.
Rep. Louise Slaughter, New York Democrat and ranking member of the House Rules Committee, had introduced the privileged resolution, which cited recent comments Majority Leader Kevin McCarthy made about the work of the committee and Mrs. Clinton's sagging poll numbers.
The resolution was ruled out of order, and members voted to table an appeal of the ruling by a 240-183 vote.
---
SEE ALSO: Trey Gowdy: Kevin McCarthy 'screwed up' with Benghazi comments; 'Kevin, you're wrong'
---
Mr. McCarthy's statement "demonstrates that the Select Committee established by Republican leaders in the House of Representatives was created to influence public opinion of a presidential candidate," according to Ms. Slaughter's resolution, which also said taxpayer funds have been improperly used for political purposes.
In a recent Fox News interview, Mr. McCarthy, California Republican, said: "Everybody thought Hillary Clinton was unbeatable, right? But we put together a Benghazi special committee. A select committee. What are her numbers today? Her numbers are dropping. Why? Because she's untrustable. But no one would have known that any of that had happened had we not fought to make that happen."
Earlier Wednesday, Mr. McCarthy defended the work of the committee while acknowledging he could have framed his argument better.
"Let's be very clear: Benghazi's not political," Mr. McCarthy told reporters. "It was created for one purpose and one purpose only: to find the truth on behalf of the families of the four dead Americans — period."
Democrats, though, have seized on the remarks, and Mrs. Clinton's presidential campaign has started airing a new ad featuring part of his original comments. She is set to testify Oct. 22 before the committee, which is chaired by Rep. Trey Gowdy, South Carolina Republican.
Mr. McCarthy said Wednesday the integrity of Mr. Gowdy and the work that's been done by the committee "has never come into question, and it never should be. Stop playing politics."
"I could have been more clear in my description of what was going forward, and I've stated that," he said. "But there's only one reason why that committee was created — period."
House Speaker John A. Boehner came to Mr. McCarthy's defense Wednesday, saying there isn't an American out there who wouldn't want an opportunity to say something over again.
"There's not one American that hasn't had this experience," said Mr. Boehner, Ohio Republican. "Benghazi's committee is about what happened before, during, and after a terrorist attack in Libya where four Americans died. The American people deserve the truth about what happened, period."
Mr. McCarthy has mounted a campaign to be the next House speaker as Mr. Boehner prepares to leave Congress at the end of the month.
Appearing on MSNBC Wednesday morning, Mr. Gowdy had said that while Mr. McCarthy has apologized for the comments, he was "wrong" and he "screwed up." Mr. Gowdy pledged to continue to conduct a fair investigation, including at the Oct. 22 hearing.
Views: 0