Cubans Take to the Streets in Protest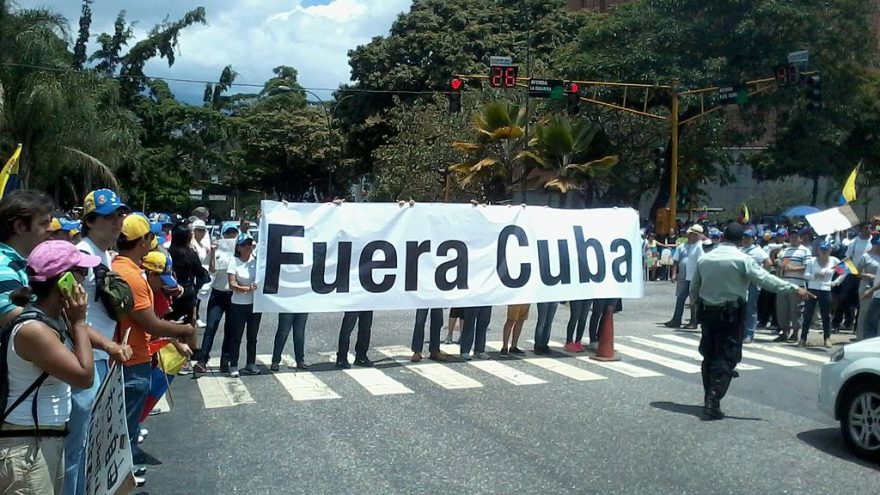 https://americanannouncement.com/wp-content/uploads/1024px-Cuba_Out_Sign_Venezuela_2014-600x338.jpg 600w,
https://americanannouncement.com/wp-content/uploads/1024px-Cuba_Out_Sign_Venezuela_2014-400x225.jpg
400w" alt="https://commons.wikimedia.org/wiki/File:Cuba_Out_Sign_Venezuela_2014.jpg" width="880" height="495" />
While the United States moves increasingly toward socialist ideals, another nation not too far from our southern border defies its own socialist government. Thousands of Cubans took to the streets on Sunday to protest the authoritarian regime in their country.
According to coverage in Daily Wire, Sunday's demonstrations constitute a demand for the end of the communist dictatorship and a response to years of repression.
One video circulating on social media showed protestors waving an American flag while crying "Liberty!" Additional chants included "We want vaccines!" and "We want freedom!" In a tweet by conservative strategist Giancarlo Sopo, "This comes as the island's communist ruler just went on national television and issued a "combat order."
Meanwhile, the Biden administration suggests the protests stem from the government's handling of the coronavirus pandemic. Acting Assistant Secretary for U.S. Department of State's Bureau of Western Hemisphere Affairs Julie Chung tweeted, "Peaceful protests are growing in #Cuba as the Cuban people exercise their right to peaceful assembly to express concern about rising COVID cases/deaths & medicine shortages."
The protests may indeed stem, in part, from the Cuban people's dismay with the pandemic and resulting economic crisis. However, the widespread chants for freedom suggest it represents far more than mere upset at the government's mishandling of Covid-19.
In light of the regime's history of crackdown on any form of dissent, the protests "were widely viewed as astonishing," according to one New York Times piece. "Activists and analysts called it the first time that so many people had openly protested against the Communist government since the so-called Maleconazo uprising" in the summer of 1994.
Coverage of the protests by Daily Wire refers to Florida Republicans as "among the most vocal proponents of the freedom protests that erupted in Cuba over the weekend." Florida leaders and lawmakers have called on the Biden administration to take action and declare public support for the Cuban people.
A tweet shared by Senator Marco Rubio asked President Biden and Secretary Blinken "to call on members of the Cuban military to not fire on their own people." Former Florida governor Rick Scott also tweeted, "The Biden administration should quickly denounce any detention or violence toward peaceful protestors in Cuba," adding, "America & every freedom-loving nation must fully support the brave Cuban people in their calls for liberty & human dignity. The world is watching."
Source: https://www.dailywire.com/news/massive-protests-erupt-in-cuba-as-citizens-demand-end-to-communist-dictatorship-we-want-freedom